If you are planning to use sparklers at your wedding, you may be confused on how to display them or how to let guests when they should be lit. Fortunately, we have a collection of different signs to help you organize your sparkler send off and cross out one worry from your to-do list. Let's see them.
A Sparkling Exit Sparkler Sign – Personalized
This is a very elegant and unique sparkler sign which you can customize to match your wedding needs. It is made of a very fine and transparent acrylic which gives it a romantic and chic look. You can choose the color of the text between white, gold or silver. In addition, you are able to personalize the text on the bottom to include whatever information you want! This is a beautiful sign to make your special day memorable.
Let Love Sparkle Sparkler Sign – Personalized
This is such a romantic sparkler sign. It is also made of a very fine acrylic which makes it perfect to place wherever you want. Its text is just appropriate for the occasion and it also has the option to personalize the bottom text so you can include your names or the wedding date. Choose between white, gold or silver text to match your wedding's color theme.
See Sparks Fly Sparkler Send Off Sign
If you want to accent your wedding sparkler display and impress invited guests, you better try our unique sparkler send off sign, we assure you will preserve your glowing memories forever.  This sign is manufactured with high quality acrylic and its message helps improve the expectation among your guests. You may personalize the text to make it white, gold or silver.
Sparkler Send Off Sign – Personalized
If you are looking for a way to let your guests know when exactly the send off will take place, this is the perfect sparkler for you. It will help you coordinate the sparkler send off to make your wedding celebration easier. It can be personalized with gold, white or silver text.
---
Have you ever used sparklers? Those fireworks that with a very brilliant light that resembles a magic wand of a fairy. Sparklers are usually used during New Year's Eve and to receive the New Year in a sparkly way. However, they have been becoming very popular in other holidays and celebrations. Weddings are not an exception. They are inexpensive but give a touch of magic to any wedding ceremony.
What happens when a couple decides to include sparklers in their wedding, is that they have a hard time choosing the right moment to light them up. At the beginning, during the ceremony, at the exit, during the kiss. Whichever you choose, it will be unforgettable: Exiting the room through an aisle made of golden lights, entering a room only lit by the guest's hands or opening the first dance under the romantic light of sparklers. There are plenty of possibilities, you just need to thing which will make you happier.
Jessica Kettle Photography www.stylemepretty.com
In case you choose the last option—opening the first dance under the light of sparklers—you will find some ideas to make that special dance, a memorable moment. Why is it a good idea to use sparklers for the first dance?
You will avoid the hassle of handing the wands when the invitees enter the venue.
The final output will be spectacular. Dancing under the shiny light of those magic wands.
You will make your guests be active participants of an important moment of your life. The first dance you will ever have as a married couple.
Now, you may be wondering how to organize it. It is actually very simple. The best you can do is to make tags that read "Light me during the first dance" and put them on each table together with the sparklers and matches. One of each per invitee and place as many wands, matches and tags as guests you have on each table. In that way, everyone will know how exactly the sparklers must be lit.
U Me Us Studios http://www.stylemepretty.com/
Dancing uniquely under the light of the sparks while the guests move them following the rhythm of the music, is an opportunity you don't want to miss. It is easy to organize and it will be not only magical but a moment that will be captured by your photographer for history.
---
If sparklers are going to be a part of your wedding send off, then you are going to want to give your guests the tip off. Send off schedule signs are a great way of letting your guests know when to expect the celebrating to come to an end. This is helpful because it allows guests to plan when to leave without missing out on the sparkling send off fun. It is always a shame when a guest realizes that if they had stayed 15 minutes longer, they wouldn't have missed the sparkler send off.

When using sparklers, it is particularly useful to include a sign because then the sparklers become a part of the aesthetic and style of the wedding, rather than just the ending show. This can also be done more effectively by displaying your sparklers  with the sign. Regardless, a sparkler send off sign can be a wonderful addition to your reception decorations.
A Couple of Choices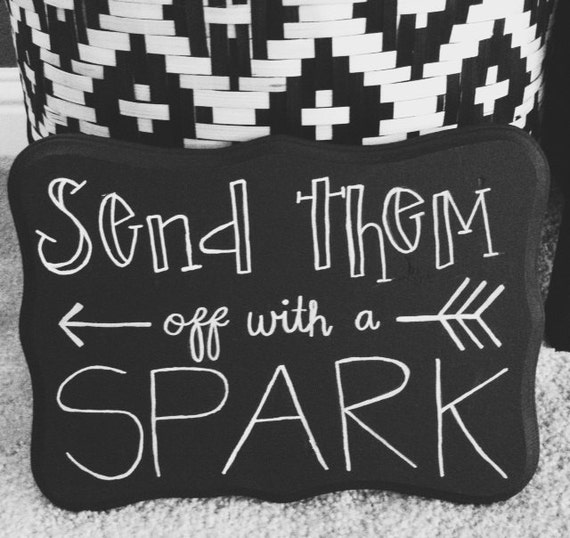 When deciding on you sign decor, you have quite a few options, starting with deciding if you are going to make you sign or buy one. Making you sign can be a lot of fun and doesn't have to be complicated. It can be as simple as using a chalkboard and having someone with good hand writing or artistic savvy write a saying and the time of the send off. Typically, the wording of these signs will say something like, " Send them off with a Sparkle - Sparkler Send off at TIME". 
Or if you would like to buy an already made sign, you options become even bigger as you gain access to craftsmanship that you usually wouldn't have. For example, The Wedding Sparkler Store has a beautiful selection of etched acrylic (looks like glass) sparkler display signs. They are completely customizable to suite your needs and can include sayings like "Let Sparks Fly" and " Let Love Sparkle". It is like having the DIY without the work and with the added pizzazz. 
---